Model TAS-1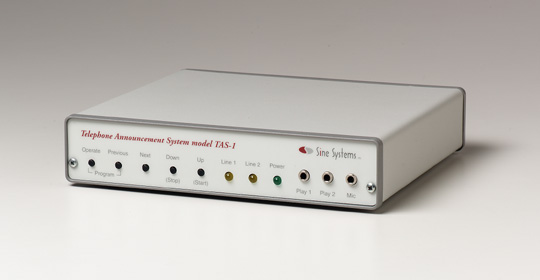 Click image for more views
Features
Telephone Announcement System
The TAS-1 is a complete, self contained, time and temperature system. It does not require a computer or any other equipment to operate. All you have to do is record your messages and connect a telephone line.
Budget Conscious
Time and temperature services are common in large cities but many small communities do not have them because of the high cost of the equipment. In fact, some companies require a pricey monthly lease for their equipment. By utilizing digital technology and an innovative design, the Telephone Announcement System has nearly all the features of competitive products, but at a fraction of the cost. It is not leased, you own the equipment.
Features
Digitally stored messages
Variable outgoing message format
Independent message delivery systems for each telephone line
Synchronized to AC power for increased clock accuracy
Battery backup in case of AC power failure
Fahrenheit or Celsius temperature delivery
Automatic compensation for Daylight Savings Time (where appropriate)
Call counter and inactive/defective telephone line indicator
Expandable up to 62 telephone lines maximum
Compact system measuring 7.0"W x 1.5"H x 6.5"D
Different applications require different message options so the TAS-1 is flexible. The opening greeting can be a single 30 second long message, or two rotating message of 15 seconds each, or three rotating message of 10 seconds each. The optional closing message can be up to 15 seconds.
Telephone Lines
The base TAS-1 unit handles up to two telephone lines. TAS-1/ex expansion units add up to six lines per expansion unit. Up to ten expansion units can be added for a maximum system total of 62 lines.
How many lines will you need? A time and temperature service needs enough telephone lines so most people can get through on their first or second try during times of peak activity. The number of telephone lines needed also depends on how well the service is promoted. If few people know about it, one or two lines will suffice. More lines will be necessary if the service is promoted on the radio, in print, etc. As a general rule, about one line per 10,000-20,000 people in the community.
The Radio Connection
Anyone can purchase the TAS-1 and start a time and temperature service but a local radio station is in a prime position to make this service a real success. A time and temperature must be promoted so that people in the community know that it exists when they need it. There is no business better suited to accomplish this than a radio station. The possibilities for promotion and cross-promotion are fantastic. The only limit is your creativity.
Sales Strategies
The best advertiser for a time and temperature service is a local business with high prestige and a clientele with broad demographics such as a local bank. Banks usually have money for advertising and a time/temperature service is an ideal medium to promote the business to people of every age and lifestyle. Advertising on a time/temperature service can also fill in the demographic areas not covered by the radio station's target audience.
Since the Telephone Announcement System can deliver up to three rotating commercial messages, it is entirely feasible to sell the service on a non-exclusive basis to three different advertisers. Often, however, a more prestigious client will negotiate an exclusive arrangement.
Configuration Options
The TAS-1 comes with everything needed to get a basic system up and running on up to two telephone lines. (Except for telephone service, of course.) Optional accessories include:
TAS-1/EX Expansion Unit adds capability for up to 6 more lines
TAS-1/C3 Expansion cable for basic system plus 2 (max.) expansion units
TAS-1/C10 Expansion cable for basic system puls 10 (max.) expansion units
TAS-1/SE 100 foot temperature sensor extension cable
Up to nine expansion units can be added to a system for a maximum total capacity of 62 telephone lines.
Demonstration
The TAS-1 uses a male voice that has been digitally recorded and stored in non-volatile memory to deliver the time and temperature. While the speech patterns may sound a little unnatural at times, readings are always clear and easy to understand.
To hear the TAS-1 in action, call (615) 777-TAS1. We do not update the weather forecast but you can get a current time and temperature reading. Or, you can listen to prerecorded audio from the TAS-1 by selecting one of the links below.
Play TAS-1 Audio Demonstration
Here is a link to the audio file if the player does not load.
The sample file originates from a 22kHz, 8-bit, mono source. These settings provide a reasonably accurate representation of the audio performance of the product. They may also introduce small amounts of distortion or other audible artifacts.