Model MBC-1.5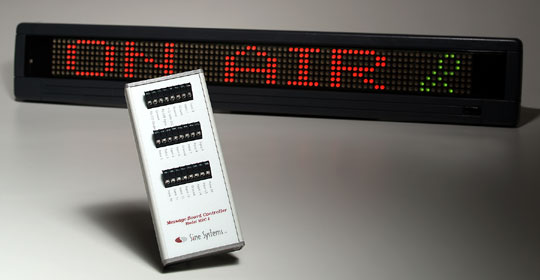 Click image for more views
Features
Message Board Controller
Version 2 of the Message Board Controller was unavoidably delayed. Our supply of MBC-1 was completely exhausted. Instead of re-tooling for version 1, we modified the tooling for version 2 and put an enhanced version 1 in it to arrive at MBC-1.5.
An "On Air" Light... but better!
A light bulb in a little box that says "ON AIR" is simple and effective but limited. In modern studios there are many more things to keep up with than just an open microphone. Discover a new way to say "ON AIR" and just about anything else with Sine Systems Message Board Controller.
Combined with an LED based electronic message display, the MBC-1.5 gives you an attractive and versatile studio display system. One MBC-1.5 can control several displays and is easy to install.
The Beta-Brite by Adaptive is the most commonly used display. Other devices from their Alpha product line will work. Adaptive has a devices to fit nearly every studio and budget.
Any message that can be programmed into the display can be shown by the MBC-1.5. Plus, the MBC-1.5 can load the display with a set of messages to help get your system up and running quickly.
Here are some of the many possible messages:
FIRE alarm
Transmitter OFF
On Air
EAS Alert
Security Alert
Weather Bulletin
Hotline
Recording
Audio Failure
Taping in Progress
APPLAUSE
Quiet Please
The MBC-1.5 has fifteen inputs that can be triggered by external devices. The MBC-1.5 can also operate more than one display. The MBC-1.5 can show different messages from the same trigger by programming displays with unique messages based on the location of the display.
Eliminate the clutter and confusion of all the signaling devices that have collected in your studios over the years. The MBC-1.5 delivers important information in clear text. It is a great way to improve both the appearance and efficiency of your broadcast and production studios.
Improved installation
Version 1.5 is easier to install than its predecessor. All connections use pluggable connectors with industry standard connectors where possible. This makes the device easier to install and use. The base system has everything needed to setup and test the system.
Compatible Displays
Beta-Brite Classic
The Beta-Brite Classic is the current version of the display for which the MBC-1.5 was designed. This display is compatible with the MBC-1.5.
Beta-Brite Prism
The Beta-Brite Prism originally shipped with only a USB interface which is not compatible with the MBC-1.5. Newer versions of the Beta-Brite Prism include an RS-232 serial interface.
Minor firmware adjustments to the MBC-1.5 were required to support the RS-232 enabled Beta-Brite Prism. The devices are compatible as of MBC-1.5 firmware version 1.54.
Alpha PPD
Many of the displays in the Alpha product line are compatible the MBC-1.5. We have successfully tested the desktop display, model PPD. Other displays in the Alpha series are likely to be compatible but we have not has the opportunity to test the MBC-1.5 with all of them.
Ordering options
Plan ahead to make the installation go well. Before placing your order, consider how many displays will be connected and how far from the MBC-1.5 will they be located?
We want provide you with everything you need in the box for an easy installation. With that goal in mind we offer cable options for the MBC-1.5
The MBC-1.5 is usually installed down close to the equipment where cable connections are convenient. But the display unit is usually installed up for easy viewing and away from the controller. This presents a minor problem.
Long cable runs and the RF rich environment of the typical studio site are contradictory. The modular connector of the Beta-Brite does not help matters since modular cables are typically not shielded. This must be considered when selecting appropriate cables for the installation.
Cable Options
Cable Package 1 (MBC-1/CP1) works for a single display system only. It contains one 50 foot long unshielded cable terminated at both ends with a modular connector. This is the plug and play option.
Cable Package 2 (MBC-1/CP2) works for a dual display system only. It contains two 50 foot long unshielded cables terminated at both ends with modular connectors and a DB-9 adapter for the second display.
Cable Package 3 (MBC-1/CPX) works with single or multi-display systems at nearly any length. The installer must provide shielded cable of appropriate quality. One or more displays are connected using the D-connector that comes with the MBC-1.5 and cable adapters from the cable package.
Use the following guides to determine which cable options are needed for the installation.
Single Display

If the display is within 50 feet, order cable option MBC-1/CP1
If the display is beyond 50 feet, order cable option MBC-1/CPX
Dual Displays

If both displays are within 50 feet, order cable option MBC-1/CP2
If either display is beyond 50 feet, order two option MBC-1/CPX
Multiple Displays
For each display order option MBC-1/CPX
System Requirements
The MBC-1.5 comes with everything needed to setup and test the system. Packages can be ordered with or without the Beta-Brite display. Display cable options must be ordered separately.
Setting up the MBC-1.5 requires a personal computer with terminal software, such as HyperTerminal, and a serial (COM) port. The MBC-1.5 does not need to be connected to the computer for normal operation. It is only used to adjust the behavior of the device inputs.
A USB to serial adapter is available for systems that do not have a serial port.