Model SIP-8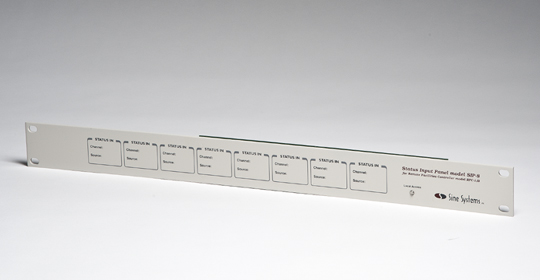 Click image for more views
Features
Status Input Panel
The SIP-8 provides an RFC-1/B system with eight status-only inputs. The SIP-8 inputs are activated by relay contacts. The inputs have an internal logic-level voltage source so dry contacts are used and an external power supply is not needed.
The SIP-8 can be used in addition to (or in place of in some instances) the RP-8 Relay Panel. The SIP-8 connects to the RFC-1/B and any existing RP-8 Relay Panels via a 16 conductor flat cable.
While the names are similar, do not confuse the SIP-8 Status Input Panel with the SP-8 Surge Protector–they are not interchangeable. The SP-8 is an accessory board that mounts on an RP-8 Relay Panel and provides surge suppression on the telephone line and telemetry inputs.
The SIP-8 has no control relays and the inputs are not suitable for analog samples. Use the RP-8 relay panel to sense analog voltages.
A connector is supplied to attach the SIP-8 to the existing flat cable. A new cable is not included and is typically not needed.
The SIP-8 Status Input Panel consists of a long PC board mounted on a 1.75 inch (1U) rack panel.