Model ACU-1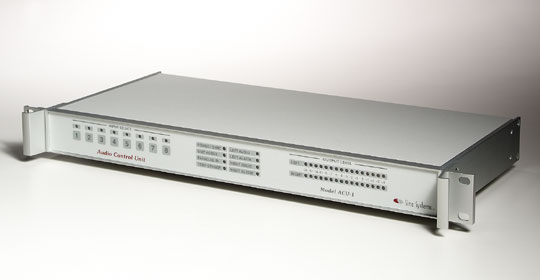 Click image for more views
Features
Audio Control Unit
The ACU-1 is a multi-function device composed primarily of an eight stereo input by one stereo output audio switcher with level control capabilities. Audio input selection can be programmed to interlock (single channel only) or mix (multiple channels).
The system also incorporates left and right silence sensors, 16 logic inputs, 8 general purpose relays, an 8-channel multiplex output, internal clock/calendar and temperature sensing capabilities. All communications are through a single RS-232 serial data port.
Features
8 input by 1 output stereo switcher with summing output
individual channel level control for up/down fading and cross fading
automatic level control and input level presets
16 logic-level status inputs
8 relay outputs (momentary or maintained)
internal clock/calendar synchronized to AC power and battery backed
temperature sensing capability (with optional sensor)
silence sensing with adjustable sensitivity
multi-drop RS-232 allows up to 10 ACU's on a single serial port
audio and I/O connections through depluggable connectors
operates on 120 or 240 volts AC (±10%) at 50 or 60 Hz
Customized Automation System
While audio inputs can be selected manually, the full potential of the system is achieved when controlling one or more ACU-1s from a host computer. The simple ASCII command structure allows for rapid development of very powerful one-off customized automation systems.
Front panel indicators include left and right VU meters, channel selection indicators and left and right silence alarm status indicators. Rear panel screw terminals are mounted on removable connector boards for easy installation and removal.
Audio I/O and Switching
The ACU-1 is relatively sophisticated for an audio switching device. Audio switching tasks are handled intelligently and effectively without infringing on program source material. A variety of I/O options give the ACU-1 the ability to control or signal outboard equipment so that it is easily integrated in a complete automation system.
The heart of the ACU-1 is an 8x1 stereo switcher. The switch is an audio summing switch--any or all of the inputs can be switched on at the same time. Each channel of the stereo output drives a pair of discrete amps.
Output levels are adjustable between 0 dBm and +8 dBm using internal trim pots. The factory setting is +4 dBm at 0 VU. The audio outputs are isolated and short circuit protected.
Each of the eight stereo inputs is configured for balanced operation at nominal line level (-4 dBm to +10 dBm). By changing resistor networks any or all inputs can easily be converted to consumer level unbalanced inputs (-15 dBm).
Automatic Level Control
The audio switch has an automatic level control (ALC) that maintains an output level of approximately 0 VU. The ALC will adjust the gain down rapidly if the audio level is too high or raise it up slowly if the audio output level is too low. The operation is conservative and meant to be transparent regardless of the program material.
Rather than use potentiometers to preset the level on each input, the ACU-1 uses a technique we call virtual level presets. By storing the gain of each channel at critical points in time and restoring that gain from memory at appropriate times, audio dips and bursts are virtually eliminated during switching.
Silence Sensors
The ACU-1 contains individual silence sensors for both the left and right output channels. The audio detection threshold and alarm delay times are adjustable with commands through the data port.
Presence and loss of audio are indicated by LED's on the front panel of the ACU-1. A pair of relays can be used to signal outboard equipment of audio failure.
Control Outputs
There are eight general purpose relays in the ACU-1 that can be used for controlling outboard equipment. The relays are operated with commands on the data port. Relay operations can be momentary or maintained (latched).
The ACU-1 has eight open-collector outputs that follow channel selection. These outputs can be used to signal or control an external device when an audio channel is selected on the ACU-1.
Time and Temperature
An optional temperature sensor is available for the ACU-1. The sensor comes with a weatherproof capsule and 100 feet of shielded cable.
The ACU-1 has a battery-backed real time clock and calendar.
System Requirements
The ACU-1 is not designed for any specific operating system or hardware platform. The programming interface is a set of ASCII commands that can be generated by most any computer.
The host system must have one RS-232 serial port to communicate with the ACU-1. Multi-drop RS-232 allows the operation of up to ten ACU-1's from a single serial port.
The ACU-1 requires a single grounded power supply outlet for power. The power supply is adjustable for either 120 or 240 volts AC via internal jumpers. The factory setting is for 120 volts AC.