Model AFS-3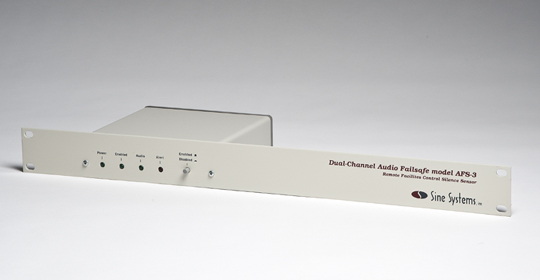 Click image for more views
Features
Audio Failsafe
The AFS-3 Audio Failsafe monitors two audio signals and maintains a relay contact closure as long as audio is present on at least one of the two audio inputs. When no audio is present on both inputs for a preset length of time, the relay contacts open and remain open until audio is present on either input again. A voltage passing through this relay can be used to signal a monitoring device of audio failure
Features
Internal Sonalert audible alert--continuous or pulsing
Positive delay adjustment via rotary switch
Delay adjust accessible on rear panel
Internal logic-level alert voltage
Audio detect mode
Audio on both inputs must be silent for a preset length of time before an alert is triggered. The length of this delay is adjustable from 30 seconds to 5 minutes in thirty second increments.
The AFS-3 also works in reverse as an audio detector instead of a silence sensor. Normally a delay period of silence is necessary to trigger an alert. In reverse, a preset period of audio can be used to trigger an alert.
Silence Alert
The AFS-3 is typically used to signal outboard equipment, such as a transmitter remote control, that a situation has occurred. The remote control recognizes the event and responds appropriately typically by contacting station personnel.
Terminate Transmission
Alternately, the AFS-3 can be used as an alternate means of control for a transmitter. When used this way the AFS-3 is connected in such a way that it will turn off a transmitter when the audio feed to the transmitter is silenced for an appropriate length of time. This procedure would be used in the event that the normal means of control has failed.
Specifications
The AFS-3 is housed in a small metal chassis attached to a single rack space (1U) panel. It mounts in a standard 19" wide equipment rack. All connections are made through pluggable screw terminal connectors on the rear panel.
Front panel indicators include power, system enabled, audio present and alert status. Controls include a front panel defeat switch, rear panel delay adjustment and internal jumpers to select options such as an audible alert (Sonalert) and logic voltage on the output relay. Both normally open and normally closed relay contacts are available.