Model TTI-2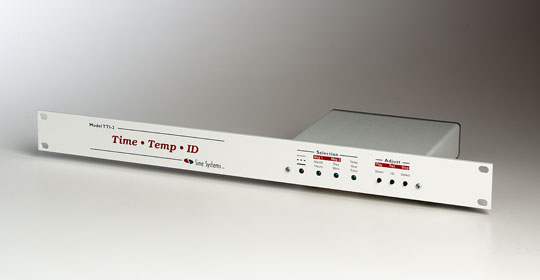 Click image for more views
Features
Time/Temp/ID Delivery System
People have tuned in their radio to find out the time and temperature for years--at home, at work and in their cars. In a typical radio broadcast, an update of local conditions is never more than a few minutes away, right? Not necessarily. With many automated programming systems this task is difficult to achieve.
In the past there were cartridge-based talking clocks. They were ingenious and they worked great until the carts wore out (which happened fairly often). With the help of a little digital technology, we perform the same task in a fraction of the space with greater accuracy and no moving parts to wear out.
This single-space, rack-mounted device can deliver the time, the temperature or both. All that is required is a simple command from an automation system. The TTI-2 It even changes the way it speaks the information so it does not sound completely programmed.
Time Only
It's 3:27
The time is 3:27
Temperature Only
The temperature is 72 degrees
It's 72 degrees outside
Time and Temperature
It's 3:27 and the temperature is 72 degrees
The time is 3:27 and the temperature is 72 degrees
It's 72 degrees outside at 3:27
At 3:27 the temperature is 72 degrees
Interfacing the TTI-2 to most automation systems is easy. A relay contact-closure or open-collector output is all that is required to make it speak. When the TTI-2 is finished speaking it sends a signal back to the automation system with a relay contact-closure.
Station ID
By popular demand we added station identification capability. The TTI-2 includes storage and playback for two user programmable messages up to 28 seconds each. You can say whatever you like. Use it for station ID, sign on/off messages, sponsor ID. Add background music and sound effects, it's entirely up to you.
Audio Sample
The TTI-2 uses the voice of a professional announcer that has been digitally recorded and stored in non-volatile memory. The speech samples that the device uses have been carefully edited so that it is not immediately obvious to the casual listener that the announcer is not human.
Play TTI-2 Audio Demonstration
Here is a link to the audio file if the player does not load.
The sample file originates from a 22kHz, 8-bit, mono source. These settings provide a reasonably accurate representation of the audio performance of the product. They may also introduce small amounts of distortion or other audible artifacts.