Models RCS-8 and RCS-16
Available Soon!
Click image for more views
Features
Remote Control Systems
Features
The RCS series devices are single-box remote control solutions. They include nearly every function of our entire Remote Facilites Controller product line in a flexible, easy-to-use system.
RCS series systems combine:
the functionality and voice connectivity of the RFC-1 Remote Facilities Controller
the network connectivity and features of the RAK-2 Intelligent Rack Adapter
the telemetry and control abilities of the RP-8 Relay Panel
and the surge protection of the SP-8 Surge Protector
RCS models designated with "XL" also include:
the built-in logic voltage feature of the SIP-8 Status Input Panel
PLUS, selectable latching control relays–a feature not previously available!
The RCS family of systems extend the RFC-1 into the network connected world. The RCS models feature a wired Ethernet connection with a built-in network interface and web server.
The remote control system gains network connectivity while maintaining the traditional RFC-1 voice mode interface. All models in the RCS series include both network and voice capabilities.
Telemetry inputs, control relay outputs and surge suppression are built-in. The systems are housed in a high quality, rack-mountable aluminum chassis.
Models
The RCS series of remote controls consists of four models. There are two 8-channel models and two 16-channel models.
Model RCS-8 has 8 telemetry channels
Model RCS-8xl has 8 telemetry channels with latching and logic voltage
Model RCS-16 has 16 telemetry channels
Model RCS-16xl has 16 telemetry channels with latching and logic voltage
These systems are also compatible with RP-8 relay panels for additional telemetry and control channel expansion.
Network Communications
Internet connectivity gives the RCS series new capabilities that make the Remote Facilities Controller family of devices more effective at communicating with you than ever before.
system readings can be viewed with a web browser
system readings can be delivered by email or text message
alarm notifications can be made by email or text message
Web Interface
The built-in web server collects telemetry data from the embedded RFC-1 controller and displays that data in an attractive, efficient interface that is available from any device that can browse the web.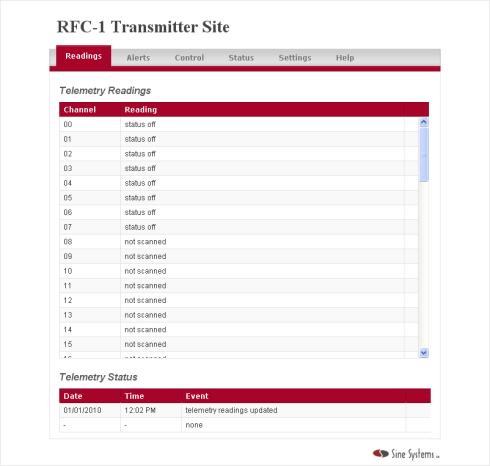 Telemetry and Control
All telemetry and control connections are made with pluggable screw-terminal connections. Telemetry channels are calibrated from the front panel.
Models designated with "XL" also include the ability to latch individual control relays. These models can also supply logic voltage to an input so that relay closures can be sensed without using an external voltage source.
The front panel has LEDs to indicate channel selection and the state of latched control relays.
Programming Software
Setup Tool 6 is also included with the RAK-2. This Windows® based software provides an easy-to-use interface for adjusting the settings of the embedded RFC-1. The software generates a data file that is uploaded to the RAK-2 through the web interface. The RAK-2 then loads the data into the embedded RFC-1. The data file can be copied to any storage device to backup the system settings.
Enhanced RFC-1 Controller
RCS series remote control systems have an embedded RFC-1 remote facilities controller with improved firmware with several feature enhancements. See the FAQ area of this page for more information.
Surge Suppression
RCS series devices have protection circuits on the telemetry inputs and telephone line to suppress damaging electrical spikes before they can harm the system.
System Requirements
Broadband Service
Broadband data service is required to support remote web display and email messaging features. The network connection to the RCS series devices must be provided over wired Ethernet. This is typically a LAN connection through a router to the Internet.
Voice Service
The RCS series devices have a voice interface for those times when a web browser is not convenient. A standard telephone line or similar service must be provided to use the voice connection. A single line telephone is required for local control of the embedded RFC-1.
Email and Text Messages
The systems require access to an email server to provide email or SMS text notifications. The settings can be adjusted to work with most email providers. SMS text notifications require support from your wireless phone carrier. This may involve additional charges from the service provider.
Relay Panels
RP-8 Relay Panels are not required for RCS installations since telemtry and control interfaces are built-in. However, RCS systems are compatible with the RP-8. Relays panels can be used to add channels to an RCS system. Latching and logic functions of XL models cannot be extended to an RP-8.
Power Supply
The RCS series devices require a single grounded power supply outlet. The systems have a universal power supply that operates from 90 to 240 volts AC at 50 or 60 Hz.